Tornado Safety Tips
---
Oklahoma's Weather is unpredictable.
When tornadoes strike, proper shelter can make the difference between life and death. Because of this, many organizations make it their goal to protect those who find themselves in the path of severe weather. FEMA offers an abundance of information for those interested in constructing safe rooms for individuals, families, or communities.

Weather Safety Kit
---
Oklahoma weather can change in a heartbeat. Use this checklist to build a safety kit to help keep your family safe in the event of an emergency.
When preparing for a tornado, or any natural disaster, you should have your disaster supply kit accessible.
Adhesive bandages
Cotton tip applicators
Gauze pads
Alcohol prep pads
Antiseptic towelettes
Burn cream
Antiboitic ointment
Aspirin tablets
Non–Aspirin tablets
Ibuprofen tablets
Antacid tablets
Hand Sanitizers
First aid guide
Canned Food
Can Opener
Flashlight
Mobile charger
Swiss army knife
Gloves
Matches
Essential medications
Download the Checklist
Thunderstorms
---
During a thunderstorm Mother Nature can put on a spectacular, and at times, dangerous show.
Dangers associated with thunderstorms can include lightning, heavy rain, flooding, hail and strong winds. The life span of thunderstorms is usually less than an hour. When storms combine they can form squall lines. Some thunderstorms grow into powerful supercells which can last for hours and spawn tornadoes.
Only 10% of the estimated 100,000 thunderstorms a year become severe, but that 10% accounts for most of the loss of life and property damage. The first step in staying safe in a thunderstorm is staying tuned into News 9 Chief Meteorologist, David Payne and the News 9 weather team. If severe weather is possible in the area David and his staff of meteorologists will keep you up to date on all the watches and warnings and will let you know when and where the storms will strike.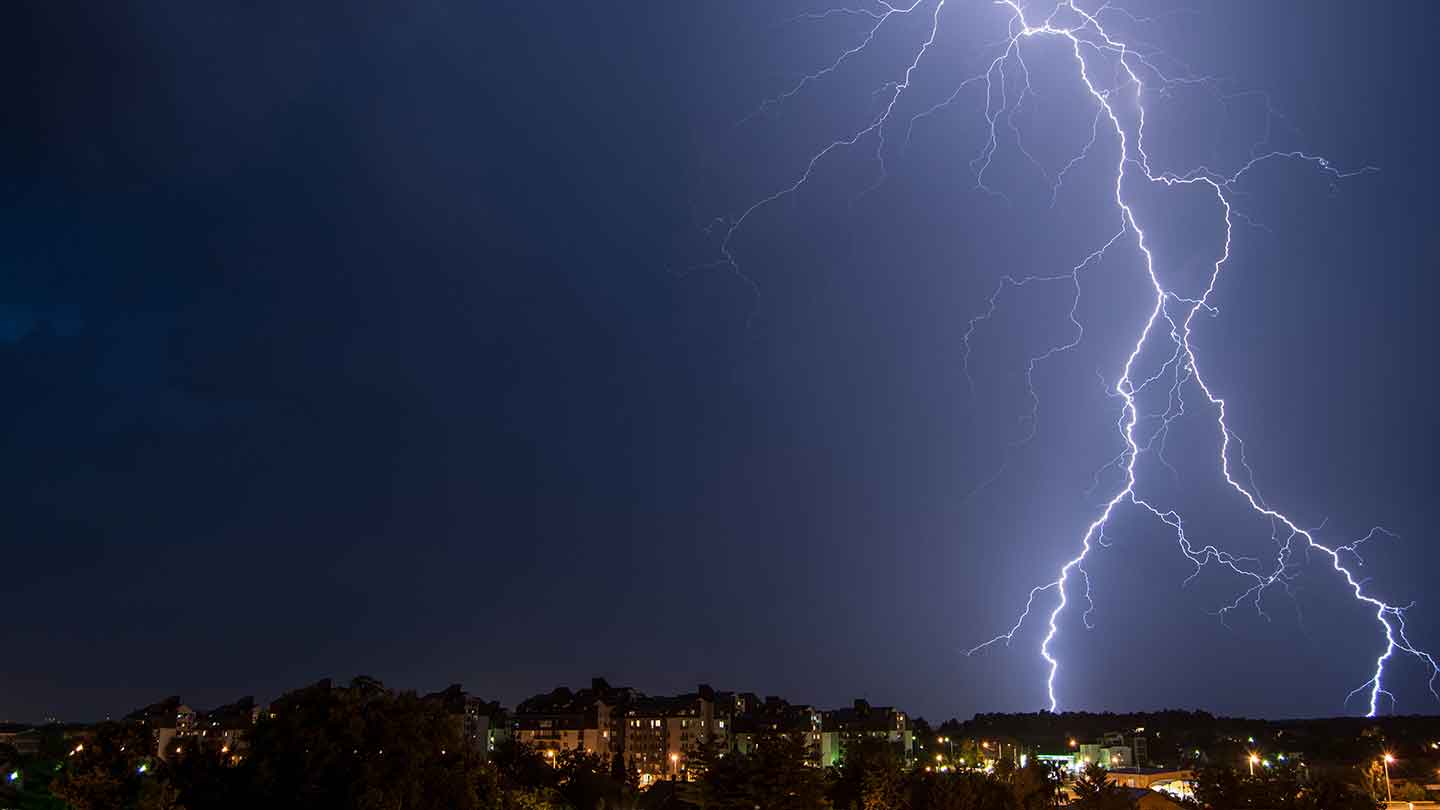 The life span of thunderstorms are usually less than a half an hour, but when storms combine they can form squall lines, which can grow into powerful supercells which can last for hours and spawn tornadoes.
What to do during a Thunderstorm:
Stay off of land line phones
Stay away from windows
Have flashlights in case the power goes out
Avoid taking a shower or bath. If lightning strikes your house it may send a current of electricity across metal plumbing into your bathroom. Plastic piping will not carry lightning.
Reduce your speed
If your visibility is impaired and you cannot drive through the storm pull off to the shoulder of the road, away from tall objects, such as trees, which could fall due to wind or lightning.
Turn on your vehicle's emergency flashers
Stay in the vehicle until the storm passes
Do not touch metal objects in the vehicle
Go inside!
If you cannot find shelter, stay away from tall, isolated objects such as trees, poles, or posts.
If you begin to feel your hair stand on end, this indicates lightning is about to strike. Stay low. Curl up on the ground in a small little ball possible. Do not lie flat on the ground, it makes you a larger target for lightning, and try to keep out of puddles or other standing water.
Boaters and swimmer should get to land as a soon as possible
If you're in a group caught outside, spread out.
Never touch downed power lines. Dial 911 or the local power company immediately to ensure that the line is turned off so repairs can be made.
Additional Information
---
Protect Yourself From Lightning' Strike
A single stroke of lightning has 125,000,000 volts of electricity.
Lightning Safety Tips
Find out the safest places to go and what places to avoid.
Lightning Facts
Lightning is approximately 54,000 degrees, that's six times hotter than the surface of the sun!
Lightning Myths
Lightning does and will strike the same exact place more than once.
Hail
---
Hail is one of the most damaging events that can occur during severe weather.
Hail is a weather phenomenon that can damage homes, vehicles and crops. It could even lead to death. On May 16, 2010, a devastating hail storm hit the Oklahoma City area causing approximately a billion dollars in damage. Fatalities from hail are rare in the U.S., the last recorded was a Colorado infant in 1979. Deaths from hail are more common in underdeveloped parts of the world where people live in poorly constructed buildings.
What to do in a Hail Storm
Hail is fairly common in Oklahoma in the spring and being prepared on what to do during a storm can help protect you and your property. If hail begins to fall, take cover. If you are driving, stop if possible because the momentum of the vehicle can make the damage worse. Remember, protect yourself first before trying to save your car from those pesky dents.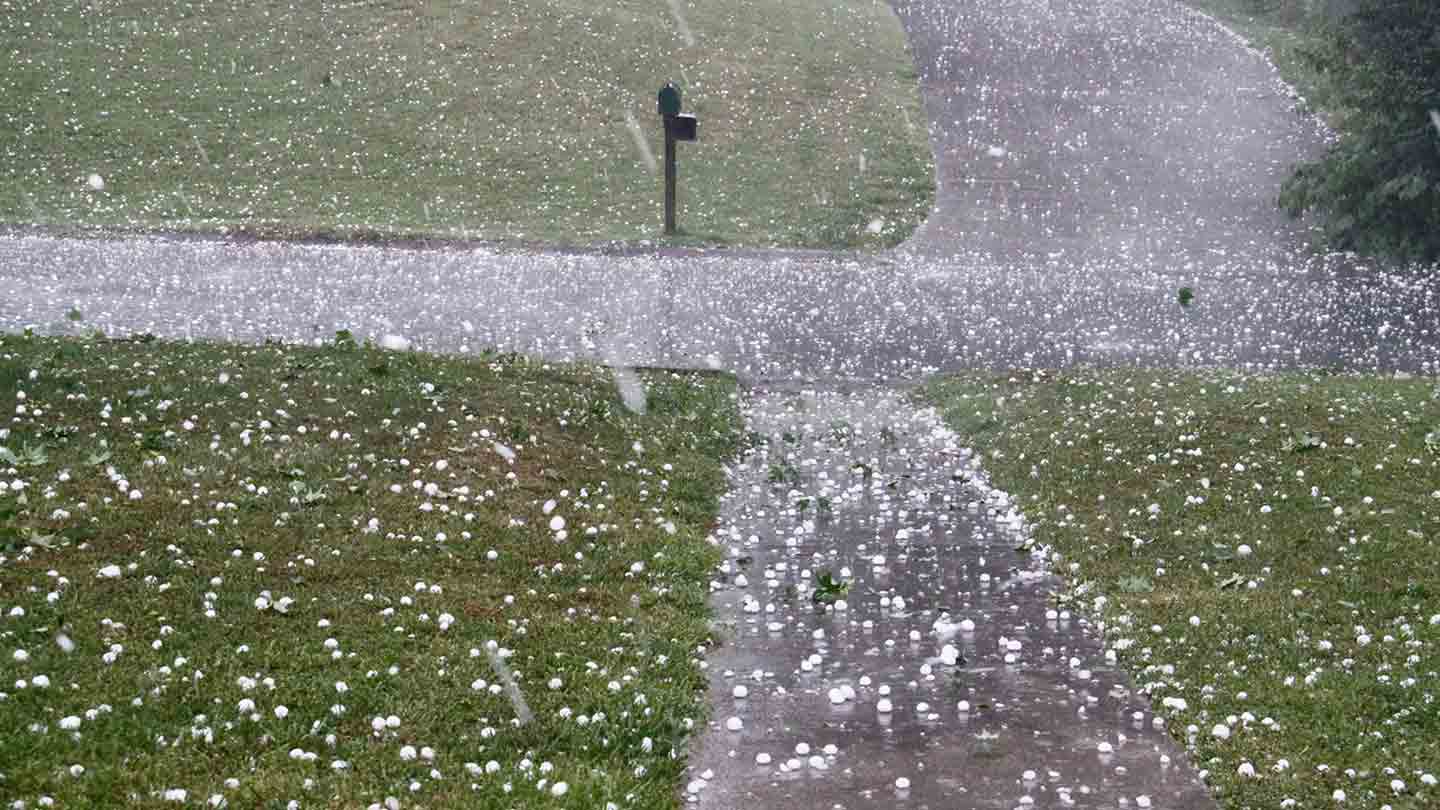 Hail hurtles to the ground at speeds up to 90 miles per hour.
What is Hail?
Hail is spherical or irregular shaped chunks of ice produced by intense thunderstorms. It is considered to have a diameter of at least pea sized and can become very large.
How is hail formed?
Hail forms when strong currents of rising air, called updrafts, carry water droplets high enough in a thunderstorm for the water to freeze. More and more water freezes around the piece of ice, causing it to grow in size.
Once the frozen pellet is too heavy for the updrafts to keep it within the cloud, it begins to fall. For the hail to grow, strong updrafts catch the falling hail and carry it upward again, adding new layers of ice.
In the U.S., hailstorms are most common in the Central Plains, especially just east of the Rockies.
Hail is usually produced by cumulonimbus clouds, called thunderstorms.
Hail forms from condensation nuclei like dust or ice crystals. Then supercooled water freezes on contact with the ice around the nuclei causing it to grow larger.
Cut in half, a hailstone has concentric rings like an onion, which reveals the number of times it traveled to the top of the storm before falling to Earth.
The largest hailstone ever reported was 18.75? around, 7? wide and weighed 2 pounds. The hailstone fell on July 23, 2010, in Vivian, Nebraska.
When hail falls to Earth, the larger ones can reach speeds over 100 mph right before impact.
Hail tends to occur in warm weather because hot air rising from the ground creates the turbulent updrafts and tall clouds necessary to keep the ice particles aloft for a long enough time to form hail.
Grauple:Soft, opaque hail with a snowflake–like structure that bounces off of hard surfaces, also referred to as snow pellets.
Small hail:Has a higher density than grauple, and is usually semi–transparent and rounded, typically up to a 1/5? in diameter.
Hailstones:Round stones of ice, with layers that look like an onion. The layers are formed while the hail is rising and falling in the updrafts.
Flooding
---
What is a Flood?
A flood is a natural disaster that occurs when there is more water than a lake, river, creek or even the ground can handle.
A flash flood is sudden flooding that occurs when floodwaters rise rapidly with no warning within several hours of an intense rain. Flash floods usually happen after heavy rainfall from a slow moving thunderstorm.
Staying Safe During Flooding
Flash floods are the #1 weather–related killer in the U.S.; nearly half of those deaths are auto related.
Unlike tornado season, flooding can happen any time of year. Keeping you and your family safe from a flood begins with information.
Tune into News 9 for the latest watches and warnings from Chief Meteorologist David Payne and the News 9 weather team. In the event of flash flooding, they'll be on the air letting you know what you should do and where you should go to seek higher ground.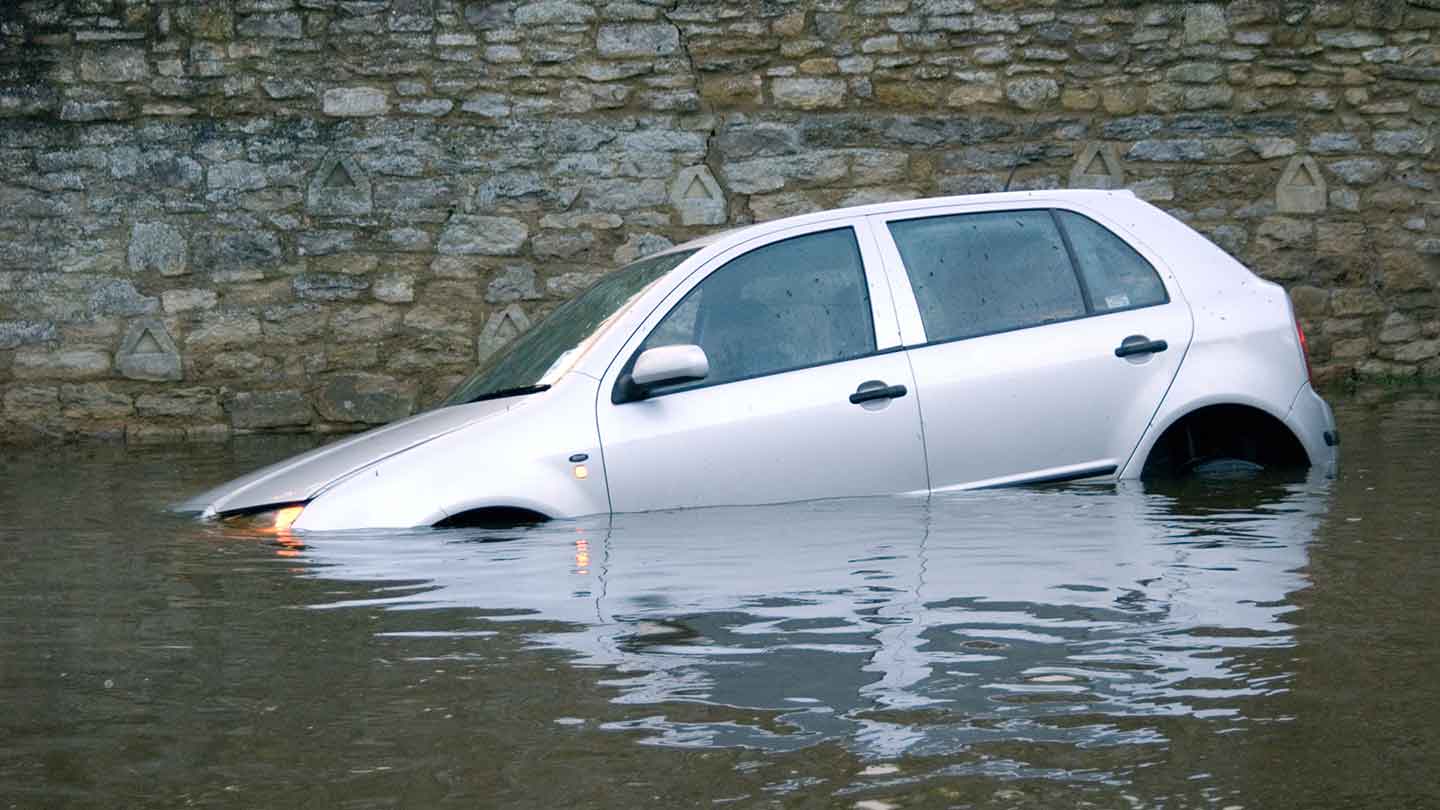 Water is one of the most useful resources on Earth. We drink it, bathe in it, and cook with it, but in large enough quantities, water can overturn cars, destroy homes and even kill.
Flood Safety Tips
Never drive or walk through flood waters.
If you cannot see the roadway, take a different route.
Move to higher ground immediately if water begins to rise.
Never go past an area that is roped off or blocked by police. It's blocked for a reason.
When a flash flood warning is issued, or if you think it has already started, evacuate immediately. You may have only seconds to escape, so act quickly and move to higher ground.
If your car stalls in rapidly rising waters, abandon it immediately and climb to higher ground.
If you experience flooding and need help, call your local authorities immediately.
Floods can take a few minutes to a few hours to develop, and if you live in a flood prone area, you should take the following steps to protect yourself.
Prepare a family disaster plan. Identify where you could go if told to evacuate. Choose several places, such as a friend's home in another town, a motel, or a shelter.
Keep insurance policies, documents and other valuables in a safe–deposit box.
When a flood warning is issued, tune into News 9 for the latest information and advice.
Additional Information
---
Staying Safe During Flooding
Flash floods are the #1 weather-related killer in the U.S.; nearly half of those deaths are auto related.
Inspecting A Car For Flood Damage
Has the car you're looking at has been damaged by flood waters?
Dangers of Flooding
Too often, experts say, people try to drive through water moving across roads.
Reduce Your Potential Flood Damage
To reduce your potential flood damage, you should raise your furnace, water heater and electric panel.
Fujita Scale
What is the Fujita Scale?
Fujita Scale, or F–Scale, levels are based on the damage caused by tornado wind speed. Dr. T. Theodore Fujita developed the scale in the early 1970s. Experts caution that the F–Scale is not a completely reliable measure, due to difficulties in precisely judging wind speeds.
Rating
Wind Speeds Estimate*(MPH)
Typical Damage
F-Scale
EF-Scale

Rating:

0

F-Scale:

< 73

EF-Scale:

65 - 85

Typical Damage:

Light Damage - Some damage to chimneys; branches broken off trees; shallow - rooted trees pushed over; sign boards damaged.

Rating:

1

F-Scale:

73 - 112

EF-Scale:

86 - 110

Typical Damage:

Moderate Damage - Peels surface off roofs; mobile homes pushed off foundations or overturned; moving autos blown off roads.

Rating:

2

F-Scale:

113 - 157

EF-Scale:

111 - 135

Typical Damage:

Considerable damage - Roofs torn off frame houses; mobile homes demolished; boxcars overturned; large trees snapped or uprooted; light - object missiles generated; cars lifted off ground.

Rating:

3

F-Scale:

158 - 206

EF-Scale:

136 - 165

Typical Damage:

Severe Damage - Roofs and some walls torn off well - constructed houses; trains overturned; most trees in forest uprooted; heavy cars lifted off the ground and thrown.

Rating:

4

F-Scale:

207 - 260

EF-Scale:

166 - 200

Typical Damage:

Devastating Damage - Well constructed houses leveled; structures with weak foundations blown away some distance; cars thrown and large missiles generated.

Rating:

5

F-Scale:

261 - 318

EF-Scale:

> 200

Typical Damage:

Incredible Damage - Strong frame houses leveled off foundations and swept away; automobile - sized missiles fly through the air in excess of 100 meters (109 yds); trees debarked; incredible phenomena will occur.
* IMPORTANT NOTE ABOUT F–SCALE WINDS:Do not use F–scale winds literally. These precise wind speed numbers are actually guesses and have never been scientifically verified. Different wind speeds may cause similar–looking damage from place to place — even from building to building. Without a thorough engineering analysis of tornado damage in any event, the actual wind speeds needed to cause that damage are unknown. The Enhanced F–scale was implemented February 2007.
Shelters
---
Safe rooms save lives.
In an average year, 800 tornadoes are reported nationwide, resulting in 80 deaths and more than 1,500 injuries.
safe room provides a shield of protection for you and your family. A safe room is a hardened structure specifically designed to meet the Federal Emergency Management Agency (FEMA) criteria and provide "near–absolute protection" in extreme weather events, including tornadoes and hurricanes.
Near–absolute protection means that, based on our current knowledge of tornadoes and hurricanes, the occupants of a safe room built in accordance with FEMA guidance will have a very high probability of being protected from injury or death.
What is a FEMA Safe Room?
To be considered a FEMA safe room, the structure must be designed and constructed to the guidelines specified in FEMA P–320, Taking Shelter from the Storm:Building a Safe Room for Your Home or Small Business (FEMA, third edition, 2008a) (for home and small business safe rooms) and FEMA P–361, Design and Construction Guidance for Community Safe Rooms (FEMA, second edition, 2008b).
Storm Map
---
Interactive Map of Oklahoma counties
When severe weather strikes, you'll want to track storm locations and notifications. Weather watches and warnings are often related to county areas, so use this map to familiarize yourself with Oklahoma county locations. Move your mouse across the map to highlight the various counties and their names.
Download David's Storm Map to track storms as they move into your area.
Tornado Sirens
---
What does a Tornado Siren mean?
The siren is your cue to turn on your television, radio or all–hazards alert weather radio to get information about the storm's location and proper protective actions. Citizens are encouraged to monitor weather conditions until the threat has passed.
Cities and counties have a "local option" allowing them to activate their sirens for hazardous conditions that pose a significant threat to life.
The sirens are reactivated each time the National Weather Service issues a new tornado warning, so the may sound more than once. No "all clear" signal is given when the threat has passed.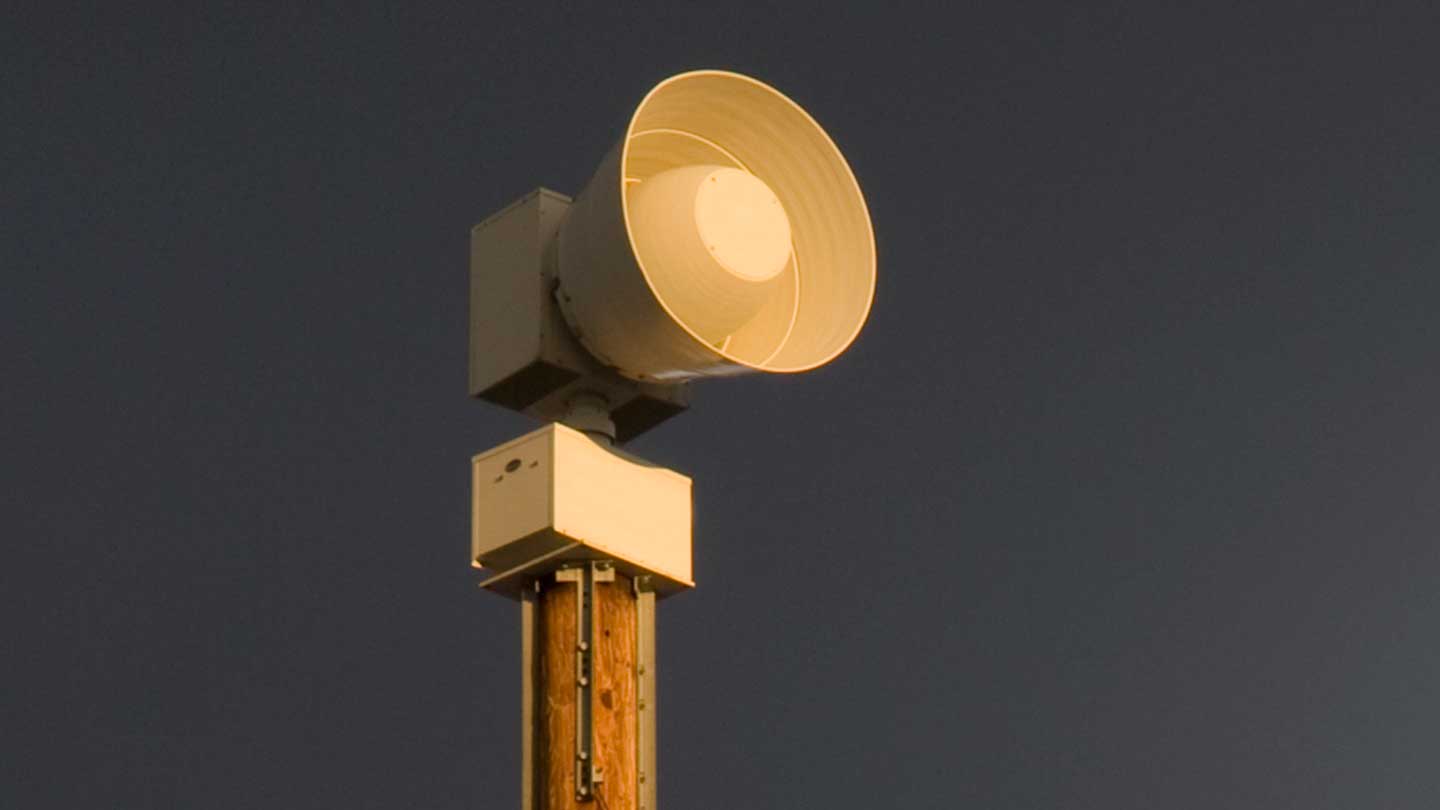 Cities and counties have a "local option" allowing them to activate their sirens for hazardous conditions that pose a significant threat to life.