Press Release
Real Estate Expert & Author Benjamin Oyortey Releases "Creating Wealth: The Art of Investing in Real Estate"
Investing in real estate is a very serious decision. Fortunately, the best selling book "Creating Wealth: The Art of Investing In Real Estate" can be a game-changer.
Columbus, OH (PRUnderground) January 21st, 2019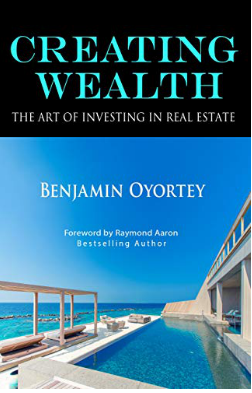 Many of the most financially secure people in the world have risen to that position through wise real estate investment. An unquestioned authority in this area is best-selling author and in-demand speaker Benjamin Oyortey. In exciting news, Global Freedom Publishing recently announced the release of Oyortey's book "Creating Wealth: The Art of Investing in Real Estate", where the real estate investing master reveals many of his best strategies, tips, and methods, in an easy-to-understand-way. The book has been met with a more-than enthusiastic response.
"Entrepreneurs have used several means to create wealth," commented the charismatic investor and real estate educator, who holds an MBA from a prestigious business school. "We, on the other hand, have used Real Estate to create wealth because I do believe that with the proper education, the skill, and perseverance, you too can become wealthy and accomplish your goals."
In "Creating Wealth", Oyortey doesn't deliver unproven theory but instead provides a proven blueprint that has led him to very serious success in the real estate field. To add to its value his methods show how this can be accomplished with minimal investments, opening the door for people to get started in real estate even without having substantial financial backing. This is an area where not many other real estate experts have explored, but Oyortey is regarded as having become very much a proven authority on.
As head of the company Real Estate Investment Wealth, Oyortey also acts as a consultant, helping clients find lucrative real estate investment opportunities.
The feedback for his book has been consistently positive across the board from new and experienced real estate investors alike.
John H., from New York, recently said in a five-star review, "I had been considering real estate investing for quite some time but was very hesitant due to my lack of experience. Benjamin's book 'Creating Wealth' opened my eyes in a big way. I made the move and jumped in for far less than I would have had I not had this amazing book as a reference. Fully recommended."
For more information be sure to visit https://realestateinvestmentwealth.com.
The purpose of the book "Creating Wealth: The Art of Investing in Real Estate" is to educate and entertain. The author and/or publisher of both this book and press release do not guarantee that anyone following these techniques, suggestions, tips, ideas, or strategies will become successful.
About Benjamin Oyortey
Benjamin Oyortey has committed his life to assist humanity. He has done this successfully over the years by changing, mentoring, directing and improving lives of individuals who want to attain success but did not have the means or the direction to achieve their goals in life.
Press Contact
Name: Benjamin Oyortey

Phone: 614.937.2252

Email: benjamin@realestateinvestmentwealth.com
Information contained on this page is provided by an independent third-party content provider. Frankly and this Site make no warranties or representations in connection therewith. If you are affiliated with this page and would like it removed please contact pressreleases@franklyinc.com