Entertainment
'Avengers: Infinity War' sets a new opening weekend record at the box office
Monday, April 30th 2018, 2:59 PM CDT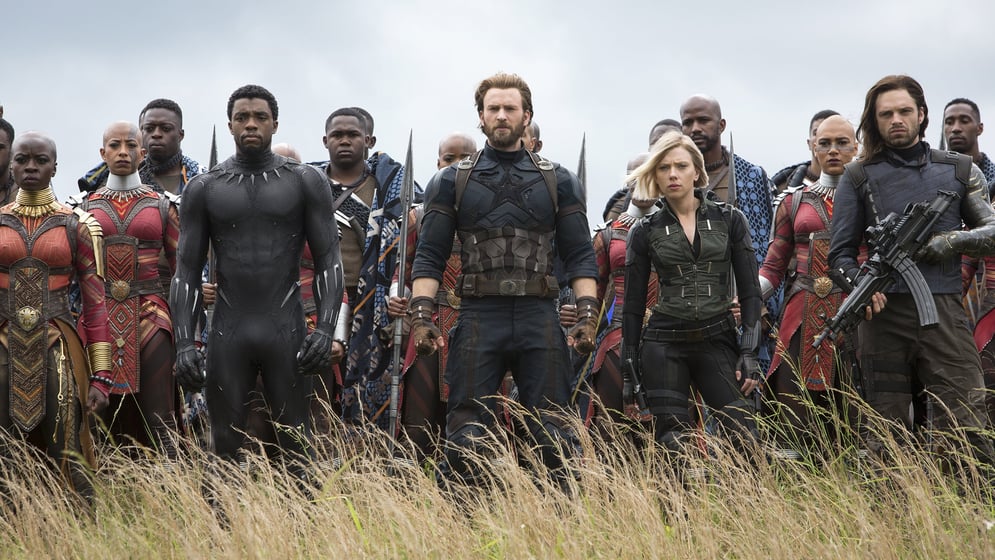 In its second week in theaters, Sony Pictures' Venom continued to prove that it's both critic-proof and far from the end of its record-setting run.
Tom Hardy's debut as the Spider-Man spinoff character dropped a mere 55 percent from its opening weekend, adding another $35.7 million domestically and bringing its total ticket sales in US theaters to $142.8 million. Pundits have indicated that the film is on a pace similar to that of 2017's Logan as far as box-office earnings go, which should make the studio happy — particularly because it has yet to open in the world's second-largest movie market, China.
Basically, Venom is a box-office juggernaut every bit as intimidating as its title character.
Although Venom earned relatively poor reviews, it still stayed ahead of critically praised musical drama A Star is Born for the second week in a row. The latter film found itself in second place among the weekend's top ten movies again, but word-of-mouth buzz suggests that — like Venom — it isn't slowing down any time soon, either.
| | | | |
| --- | --- | --- | --- |
| # | Title | Weekend | U.S. Total |
| 1. | Venom | $35.7M | $142.8M |
| 2. | A Star is Born | $28M | $94.1M |
| 3. | First Man | $16.5M | $16.5M |
| 4. | Goosebumps 2: Haunted Halloween | $16.2M | $16.2M |
| 5. | Smallfoot | $9.3M | $57.6M |
| 6. | Night School | $8M | $59.8M |
| 7. | Bad Times at the El Royale | $7.2M | $7.2M |
| 8. | The House With a Clock in its Walls | $3.9M | $62.2M |
| 9. | The Hate U Give | $1.7M | $2.4M |
| 10. | A Simple Favor | $1.3M | $52M |
Three new releases finished in the weekend's top ten movies, with Damien Chazelle's biopic of Neil Armstrong, First Man, sliding into third place with a $16.5 million premiere. The film earned good (but not great) reviews from critics, and got a warm (but not too warm) reception from general audiences, so it will be interesting to see how it performs when compared to his two previous, Oscar-nominated films: La La Land and Whiplash.
In fourth place at the weekend box office was family-friendly horror sequel Goosebumps 2: Haunted Halloween, which was panned by professional critics and did just okay with audiences (to the tune of 41-percent positive reviews and a "B" grade, respectively). The first Goosebumps movie had a $23.6 million opening weekend, so the second installment appears to be experiencing some growing pains — but with Halloween approaching, it might get a late holiday bump.
Finally, ensemble film Bad Times at the El Royale debuted in seventh place with $7.2 million in US theaters.
Unfortunately, the opening weekend news wasn't all that positive for Bad Times, which stars Dakota Johnson, Chris Hemsworth, Jon Hamm, Jeff Bridges, and Nick Offerman, and is the second feature from The Cabin in the Woods director Drew Goddard. Despite decent, 70-percent positive reviews, the film earned a problematic "B-" grade from audiences, which suggests that the people buying tickets for the film didn't exactly love it.
Coming up this week is the holiday-themed Halloween, which serves as both a sequel to John Carpenter's 1978 film of the same name, and a reboot of the long-running franchise. Also premiering this week is the directorial debut of Jonah Hill, whose coming-of-age drama Mid90s is earning significant praise already. Quirky ensemble comedy An Evening With Beverly Luff Linn also arrives in theaters.