Auto
Volkswagen builds a Batmobile-like electric race car to settle an old score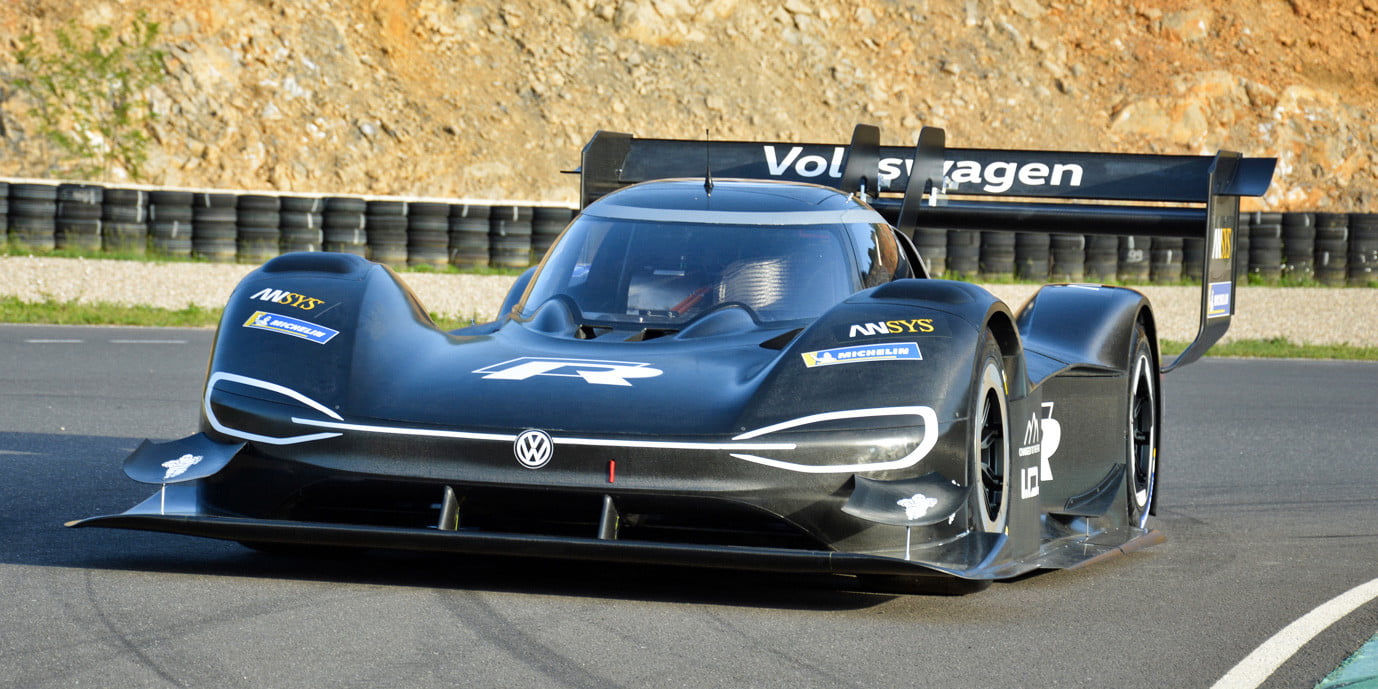 In 1985, a low rumble coming from a Volkswagen Golf broke the peaceful silence in Colorado's Rocky Mountains. It wasn't your run-of-the-mill German hatchback. It was a Frankenstein-esque, twin-engined machine built to tackle Pikes Peak, an annual race many consider the most grueling hill climb in the world. Volkswagen relentlessly raced the Golf for three consecutive years but it never managed to finish in first place. It came close in 1987 but that doesn't cut it in racing; just ask Toyota. The firm never forgot about its near-victory and it's finally making a comeback this year. It's not bringing a Golf, though.
Volkswagen will return to Pikes Peak after a 31-year hiatus with the I.D. R, a purpose-designed race car recently unveiled on a race track in the sunny south of France. It's entirely electric, like the I.D. name suggests, but it's not related to the stringof concept carswe've seenat auto shows over the past two years. The brand won't reveal too many technical details for the time being but we know the R's output checks in at 680 horsepower and 479 pound-feet of torque.
The lithium-ion battery pack zaps two electric motors with enough juice for a 2.25-second sprint from zero to 62 mph, a time which makes the I.D. R quicker than a Formula 1 car. Volkswagen hopes that will be enough to beat the existing electric car record of eight minutes and 57 seconds.
Low, wide, and aggressive, the I.D. R weighs about 2,400 pounds thanks to the extensive use of carbon fiber. Volkswagen designed it in-house specifically for the 12.4-mile, 156-turn course. Porsche, a company with decades of experience on the track, helped get the aerodynamics right. Volkswagen Motorsport boss Sven Smeets told Digital Trends the I.D. R shares no parts with other models, though.
Going electric makes a lot of sense in a race like Pikes Peak, which starts at 9,390 feet above sea level and ends at 14,110 feet. Like humans, cars suffer from a lack of oxygen. The thin air encountered at high altitudes causes internal combustion engines to lose performance. They consequently require special tuning to remain competitive. In contrast, an electric car runs anywhere regardless of air density. It's one less hurdle to clear, but ditching gasoline in favor of watts comes with its own set of challenges.
"Weight is the biggest enemy. In an electric car, the battery is the heaviest part so we have to find the best compromise in terms of battery weight, capacity, and maximum power. That was the biggest challenge for our team," Smeets told us after the car's unveiling.
Keeping the battery pack topped up represents another challenge. Smeets pointed out an energy recuperation system integrated into the drivetrain will generate about 20 percent of the electricity used by the I.D. R during the race. Commonly used in production and race cars, it's a system that harnesses the kinetic energy generated while braking and channels it back to the battery pack. Engineers walk a fine line as they look for the right amount of recuperation they need to dial into the drivetrain.
"Regeneration increases the temperature of the battery. With higher temperatures you lose performance, so it's a difficult balance. Work in the simulator was key," explained Franois-Xavier Demaison, Volkswagen Motorsport's technical director.
The I.D. R will compete in the Unlimited category, meaning anything goes as long as the car meets basic safety regulations. You can race a 20-year old Scania truck powered by banana peels if you find a way to get it up the course. Here, too, the experimental nature of the project makes testing both on the track and on simulators a crucial part of the project. Finding the right pilot was important, too.
Volkswagen recruited 40-year old French pilot Romain Dumas. He won Pikes Peak on three separate occasions. He has also finished first in the 24 Hours of Le Mans and competed in the Dakar Rally, among other series. He's excited and slightly surprised to race an electric car.
"Five years ago, if you'd told me I'd be racing an electric car with 680 horsepower I'd have been very surprised," Dumas told Digital Trends. "I've done a lot in my career, but this will be completely different. You normally have several points of references when you're racing. The engine's noise, the gear you're in, and the landscape. In an electric car, all you have left is the landscape, and at Pikes Peak that doesn't help you as much as it does on a track," he added.
Dumas began testing the I.D. R in France shortly after the car broke cover. In late May, the prototype will fly to the United States and start testing on Pikes Peak, though the team won't have access to the full course because it's a public road. On June 24, we'll once again see a Volkswagen on the starting line of Pikes Peak, but this time it will let the bears, elks, and mountain lions sleep in.