Entertainment
Spacey is out, Kinnear and Lane are in: 'House of Cards' season 6 takes shape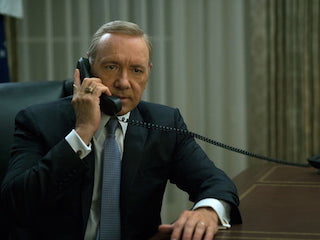 Academy Award nominees Diane Lane and Greg Kinnear will join House of Cards for the show's sixth and final season, according to Netflix. The identity of their characters is unknown at this point, but their arrival is a major move for the popular political drama as it limps into its final story arc plagued by headline-generating, behind-the-camera issues.
Lane and Kinnear join a season 6 cast that currently includes Golden Globe winner and Emmy Award nominee Robin Wright, as well as Michael Kelly, Jayne Atkinson, Patricia Clarkson, Constance Zimmer, Derek Cecil, Campbell Scott, and Boris McGiver. The announcement of the new cast members accompanied the start of production on the season, which kicked off January 31.
Season 6 of House of Cards fell into uncertain territory in late 2017 after Star Trek: Discovery actor Anthony Rapp accused Spacey of making a sexual advance toward him when he was 14 years old. Spacey issued a public apology for the incident and within 24 hours, Netflix put the show on hiatus and declared that the upcoming sixth season would be the last for the celebrated series.
Created by Beau Willimon and adapted from the BBC miniseries of the same name, House of Cards is one of the most successful streaming television series to date, and the first original streaming series to receive Primetime Emmy Award nominations in major categories. To date, the series has won seven Primetime Emmy Awards and been nominated an additional 46 times, while also winning two Golden Globe Awards and earning eight additional nominations.
Lane was nominated for an Academy Award for her performance in 2002's Unfaithful and is also a two-time Emmy nominee for her performances in Cinema Verite and Lonesome Dove. Kinnear earned an Academy Award nomination for his role in 1997's As Good As It Gets, and much like Lane, he also earned a pair of Emmy nominations, with his performances in Modern Family and the miniseries The Kennedys receiving nominations.
There's no official word on when House of Cards season 6 will premiere on Netflix.