Entertainment
MoviePass' $10 plan for near-unlimited movies surpasses 1 million subscribers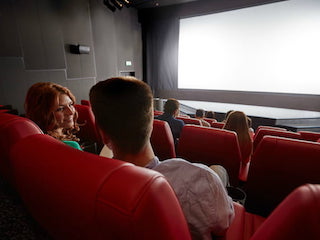 If you haven't been seeing movies in theaters as much as you used to, you're not alone. The American movie industry is in a rut — this summer's box office revenue was down 11 percent from 2016, and overall, domestic box office revenues for 2017 were 3 percent behind those of 2016. There are a number of purported causes, such as sequel fatigue, or the growing popularity of streaming services among millennials. But even if audiences are currently fed up with the movie industry, a company called MoviePass is betting it can get them back in the seats. In August, MoviePass announced it would lower pricing to let anyone see a movie a day for only $10 per month, and now, just a few months later, it has surpassed the 1 million paid subscribers mark.
"We are excited and proud to have reached the one millionth subscriber level in such a short time while still early in the consumer adoption curve," MoviePass CEO Mitch Lowe said. "Our focus on creating the best movie theater subscription service experience for our subscribers has propelled our growth to date. We believe that growth will continue as we further develop our application, improve customer service, enhance exhibitor relations and fill movie theater seats for incredible films to be released in the future."
Founded in 2011, MoviePass is a subscription service that allows users to see movies in theaters (one movie per day) without buying a ticket each time. Instead, the company pays for your ticket when you swipe your MoviePass card. The idea is similar to insurance: not every user will actually see $10 worth of movies a month, so they end up subsidizing the users who do.
While the service now seems successful, it wasn't always an easy road. When MoviePass decided to lower its prices from $30 per month over the summer, it was threatened with a lawsuit (AMC Theaters suggested it would take legal action in August and claimed that MoviePass would be "losing money on every subscriber seeing two movies or more a month"). More concerning for customers, however, MoviePass had trouble keeping up with demand.
The company's card deliveries were delayed by up to three weeks earlier this year, and although the cards were supposed to be delivered on a first-come, first-served basis, this wasn't entirely the case. "Recently, the manufacturing queue was shuffled, so some of the cards have been delivered out of order," MoviePass admitted on its site back in September. "While we work to ensure that processing is fulfilled according to your registration date, some of our more recent sign-ups may receive their cards before some of our earlier sign-ups."
Digital Trends talked to MoviePass co-founder Stacy Spikes when the service was young (and when its price was $30 per month), and Spikes explained that the service targeted film buffs. "50 percent of all ticket sales are sold to 10 percent of moviegoers … It's the coveted group that everybody wants to have and own. The right people are signing up. They're the influencers, the first weekenders," Spikes said.
We tried MoviePass years ago, and while there were some quirks that needed fixing, found it to be an affordable, convenient tool for avid moviegoers.
Update: MoviePass surpasses the 1 million subscriber mark.