Entertainment
Shot on an iPhone, Steven Soderbergh's 'Unsane' is set for a 2018 release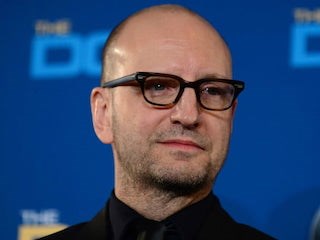 Iconic director Steven Soderbergh is no stranger to employing unique, abnormal methods to produce films. After bursting onto the scene — and winning the Palme d'Or at the Cannes Film Festival — at age 26 with 1989's Sex, Lies, and Videotape, he has made a litany of unorthodox movies, including the surreal pseudo-biopic Kafka and films like Schizopolis and Bubble, which defy traditional narrative structure.
With Unsane, set to release in March 2018, Soderbergh is up to his old tricks — or, more accurately, he's breaking out some new ones. Deadline reports that Soderbergh apparently shot the film on his iPhone (no, we don't know what model). The film is a thriller, so perhaps it'll turn out to be one of those found footage-style affairs.
Unsane stars Claire Foy (Netflix's The Crown) as a woman who is placed in a mental institution against her will and is "confronted by her greatest fear," which might be real — or it might be a figment of her imagination. Joshua Leonard (The Blair Witch Project), Jay Pharoah (Saturday Night Live), Juno Temple (Wonder Wheel), Aimee Mullins, and Amy Irving are also slated to appear, though we don't know any details about their characters.
Soderbergh has been fairly busy of late; action heist pic Logan Lucky released back in August to general acclaim, and a "secret project" that he'd been working on for years recently came to light. That project is Mosaic, an HBO series with a branching narrative (think "choose your own adventure" books, though Soderbergh scoffs at the comparison) that viewers can control via a mobile app. Mosaic represents yet another stab at unconventional filmmaking, displaying Soderbergh's willingness to push boundaries and risk his Hollywood rep.
Bleecker Street, the distributor behind Logan Lucky, will reportedly seek a wide release for Unsane, which will compete with films like Pacific Rim: Uprising and Johnny Knoxville's Action Point next March. As with Logan Lucky, Soderbergh is overseeing marketing — a rare occurrence for directors — and distributing through his Fingerprint Releasing imprint. Other movies set for March 2018 releases include Wes Anderson's Isle of Dogs, Twilight follow-up Midnight Sun, and Paramount's animated comedy Sherlock Gnomes.