Technology
'Super Mario Odyssey': Our first take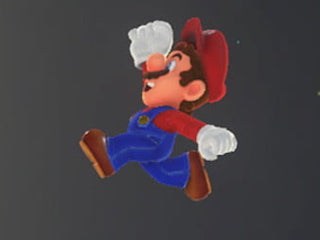 We've seen more than our fair share of open-world action games this year — Horizon: Zero Dawn, Mass Effect: Andromeda, The Legend of Zelda: Breath of the Wild — and all of them harness the magic of exploration and discovery. Super Mario Odyssey, the Nintendo mascot's Nintendo Switch debut, isn't exactly open-world — you travel to various large, open levels — but it seems capable of conjuring an endless amount of wonder. Every corner offers interesting new things to see and new ways to play. It is exceedingly clever, charming, and fun, in a way that, frankly, can only be described one way — magical.
Odyssey is a Super Mario game, so the basic conceit of the series remains in place: Mario must travel across the universe to save Peach from Bowser, so he travels from planet to planet in a spaceship, the eponymous Odyssey, and collects moons to fuel his ship and get a step closer to his goal. Because, why not?
Like Super Mario 64 and the games it inspired, you scour these levels looking for Moons. Some of them are simply tucked away in the nooks and crannies of the level, but they are also earned by completing minigames and quests. You can also find Moon Shards, which you can eventually put together to make a moon, and rare "mega moons." (We asked, but Nintendo declined to tell us the difference between a moon and a "mega moon.")
We spent a short time in two worlds: The "Sand Kingdom," a dessert littered with giant crystals and inhabited by Dia de los Muertos-inspired skeletons; and the "Metro Kingdom," AKA New Donk City, a city inhabited by people with shockingly normal proportions. Based on level maps, these worlds are large, but not unmanageable. You will have fast-travel points — the checkpoint flags of the New Super Mario series — to travel between.
You probably won't to use them, though. It feels as though there is something new to do every few steps. Roaming the streets of New Donk City, we found a scooter to drive, women with whom we skipped double-dutch, and chatted up a couple of characters from other corners of the Mushroom Kingdom. Not all of things translates to "progress" in the game. You can talk to people who aren't quest-givers, and find secret corners without a moon, but it's always exciting to look.
That said, every level is jam-packed with stuff to collect. In addition to the various types of moons, Mario can find classic golden coins, which can be used to purchase new outfits from Cappy stores in every world, as well as special coins in each world, which can also be used to buy new stuff. You might wonder if putting Mario in a pinstripe suit would take you out of the experience: In fact, seeing Mario try to "blend in" with the locals of each world is quite charming.
While the Sand Kingdom isn't as tightly packed, every tower jutting out of the dunes plays host to a new puzzle or secret. While we imagine many will simply amount to platforming challenges, you never know when you may find something more exotic. We scaled a tall, round tower by entering a pipe, which sent us into a 2D, 8-bit Super Mario Bros. style level on the tower wall. While the camera shifted to make the path clear, the 2D platforming was taking place in the 3D world. It's the best mixture of 2D and 3D Mario styles since Super Mario 3D World.
Aside from being well-made, fun, and surprising, you get the sense that these kinds of gameplay variations are sprinkled through Odyssey. The treats for dedicated fans will be just as inspiring as the the major set piece moments meant to draw us in.
Mario's hat is now a living creature, Mario throws "Cappy" with the press of a button. You can throw him to hit enemies, jump on him to give yourself a boost, and, as you may have seen in Super Mario Odyssey's ridiculous E3 trailer, possess creatures and objects across the universe, giving Mario new powers.
These potential "power-ups" range from the obvious — putting Cappy on a bullet bill will give you the ability to fly across large gaps — to unexpected things. In New Donk City, possessing a specific man on his phone opens up a puzzle involving a toy car. Then there is the completely strange stuff, like how throwing Cappy at a power line turns you into lightning so you can zip across metal wires. Everywhere you go, there are new things to capture, each of which changes how you interact with the game.
It isn't a hard-and-fast rule, but Mario can possess most creatures that aren't wearing hats. In general, it makes sense to run around throwing your hat at everyone and everything you see. Much like the many hidden nuggets you find while exploring the levels, poking at all the pieces of the playground seems to yield unexpected results. You never know what you might find.
That's what makes Super Mario Odyssey feel special. After more than 30 years (and a whole lot of New Super Mario Bros games), you might have thought Mushroom Kingdom had shared everything it had to offer. From what we've seen, Super Mario Odyssey will prove that there's always something new and wonderful around the corner in the Mushroom Kingdom.