Sales - Back to School
iPad, Nexus, and Note: Back to school tablets for students
Friday, August 2nd 2013, 11:17 AM CDT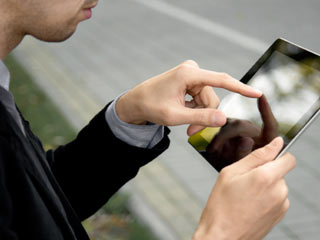 Tablets are as much an essential part of a student's back to school toolbox as a desktop or laptop. They can use tablets to take notes, do research, and help with study time. High schoolers and college kids need tablets with good, pixel dense displays, speedy performance, and extras or accessories that will keep them productive both in class and at the library. Whether you want Android, iPad, or Windows, you have lots of choice among our top picks.
P.S. Once you're done picking out a tablet, don't forget to snag an e-reader as well. The Kindle Paperwhite is easier on the eyes than a tablet and still lights up for easy night reading.
Samsung Galaxy Note 8.0 ($400)
With this Android tablet students can ditch the pen and pad for taking notes and go all digital. Thanks to the S Pen digitized stylus, it's possible to write and draw on the screen with precision so notes and diagrams are clear and easily shared or uploaded to the cloud. Multi-window mode makes Android more useful when researching or working between two apps. We recommend the 8-inch Note over the 10.1-inch version because we find the smaller size more comfortable for writing and the light weight makes it better for long reading sessions.
Read our review of the Galaxy Note 8.0
If note-taking isn't important but a good reading experience is, then the new Nexus 7 is a great alternative. The high resolution, full HD display renders even small text as crisp and readable. Now slimmer and lighter than before, Google's tablet won't add too much weight to your bag or give you an arm cramp if you stay up into the night cramming.
Sony Xperia Tablet Z
($500)
Students who want to go all-digital with their textbooks may want to step up to a 10-inch tablet for the larger screen real estate. The Xperia Tablet Z won't pile on too much weight or bulk and offers a gorgeous screen for both studying and watching videos to relax. It's also water and dust resistant, so minor accidents won't put it out of commission. If the $500 price tag is above your budget, the Nexus 10 is $100 cheaper and well worth the price.
Read our review of the Sony Xperia Tablet Z

HP SlateBook x2 ($480)
While we wouldn't suggest that you get an Android tablet instead of a laptop or desktop computer, it is nice to have a slate that can do some laptop-esque tricks. The SlateBook x2 works just fine as a tablet. But add the keyboard dock and you can type much faster than with on-screen keys. The dock also adds ports and more battery life, so students can carry this from class to class all day and never worry about running out of juice. HP includes a handful of productivity apps with the SlateBook, including Splashtop Remote Desktop – even away from the dorm students can access their computers and files.
Read our hands-on with the HP SlateBook x2
Apple iPad
and iPad Mini ($500 and $330)
iPads make excellent student tablets for a long list of reasons (starting with the fact that they're just great devices), but the most important for parents is the excellent resource that is iTunesU. Apple works closely with universities and secondary schools to offer course materials, lectures, and more through this education portal, and often the best way to experience all of this is through an iPad. Add to that the thousands of education-focused apps from note-taking to study help to organization available via the app store and the hundreds of accessories that make these tablets little productivity machines. The original iPad's 9.7-inch Retina display is great for reading textbooks, magazines, and web pages. However, the Mini's 7.9-inch size may have more appeal for students carrying it from class to class.
Read our reviews of the Apple iPad and iPad Mini.
See Also: iPad Mini vs. Samsung Galaxy Note 8.0: Battle of the 8-inch tablets


HP Envy x2 ($600)
Android and iOS aren't the only tablet options. Windows 8 is a touch-friendly yet fully mature operating system and there are a world of Windows tablet options – most of which aren't good. One that stands out is the Envy x2. It's a good size, lightweight, and the reasonable price includes the keyboard dock. Just as with the SlateBook x2, the dock adds ports and battery life. Though this runs Windows, we don't suggest buying this as a primary computer but as a companion. The Envy x2 runs on an Atom processor, so it's good for taking notes in class, writing papers, and researching on the web. It just isn't powerful enough to go beyond basic tasks.
Read our review of the HP Envy x2


Samsung ATIV Smart PC 700T ($1,100)
For a Windows 8 tablet that offers the performance of an ultrabook and a few other student-friendly features, we suggest the Smart PC 700T. This tablet also comes with a decent keyboard dock. The main reason it's good for students is the S Pen. Just like the Galaxy Note 8.0, the Smart PC's pen offers accurate input for taking notes and good palm rejection thanks to the display and pen technology. A Windows version of the S Note app comes pre-loaded as does Evernote and Kindle. Add an office program and students are good to go.