Education
Cheaper than buying: Online sites offer textbook rentals
Monday, August 30th 2010, 8:55 AM CDT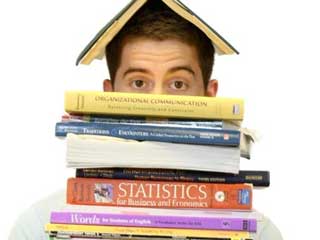 Dishing out cash every semester for new books that cost a bundle is probably one of the biggest gripes among college students. Renting, however, is an alternative that can save you money even when compared to buying used. There are many legitimate online companies that rent books and have been doing so for years. Below we've run down the list of our favorite online textbook rental sites so you can put some extra money towards paying back those nasty loans.
Prices will vary between stores depending on the book, so make sure you compare prices to get the best deal.
Chegg was launched in 2003 by co-founders Osman Rashid and Aayush Phumbhra as a Craigslist-like classified for college students to buy and sell pretty much anything. Textbooks were their biggest movers, and after seeing the success of online movie rental company Netflix, the founders decided to reposition the company as an online textbook rental service to students.
Chegg has no hidden fees, and offers three different rental periods: Semester: 125 days; Quarter: 85 days; and 60-Day rental. You also have the option of extending or buying your rental. The company does ask that you not to write in the rental, and limit your highlighting. Chegg offers standard shipping for $3.99 and free return shipping.
BookRenter was founded by Colin Barceloux, a Santa Clara University student who was fed up with paying for textbooks and started collecting discarded books and selling them online. He eventually realized that the process of buying, using, and selling a book was essentially renting it. BookRenter claims to be the first online book rental company, and is headquartered in San Jose, California.
BookRenter offers a little more flexibility in their rental periods than Chegg, with five different rental lengths: 30 days, 45 days, 60 days, Quarter (90 days), and Semester (125 days). If you want to keep your books permanently, your rental price will go towards the sale price of the book. Extensions of 10, 15, 30, 45, 60, or 90 days are also offered at an extra cost. BookRenter offers free shipping both ways, along with paid options if you need your book in a hurry.
A more recent entry into the rental business is CampusBookRentals, which began renting textbooks in 2007. The company offers a huge selection of books, and has served customers on more than 5,000 different college campuses.
CampusBookRentals' rental periods are similar to Chegg's ,with three different options: Semester (130 days), Quarter (85 days), and Summer (55 days). Like the other services in our list, they allow you to purchase your rentals and offer 15- or 30-day rental extensions. They allow highlighting, and they also match BookRenter with free shipping both ways.